『言語および言語学研究ハンドブック』あるいは『必携言語学徒要覧』とでも言えばいいでしょうか。第6部「言語ファイル」(各国言語概要の一覧)などを除くと、220ページほどの内容です。研究室に一冊欲しい本ですね。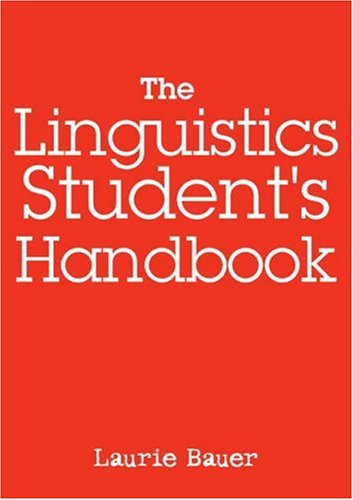 The Linguistics Student's Handbook
by
Laurie Bauer
, Edinburgh University Press, 2007/05
Paper, 384 pages ISBN13: 9780195332841 ISBN10: 0195332849
http://www.eup.ed.ac.uk/edition_details.aspx?id=12747
http://www.amazon.co.jp/dp/0748627596
【Description】
The book that tells you all the things you felt you were expected to know about linguistics, but were afraid to ask about.
* What do you know about Burushaski and Miwok?
* What's the difference between paradigmatic and syntagmatic?
* What is E-language?
* What is a language?
* Do parentheical and non-restrictive mean the same thing?
* How do you write a bibliographic entry for a work you have not seen?
Every student who has asked these questions needs this book. A compendium of useful things for linguistics students to know, from the IPA chart to Saussurean dichotomies, this book will be the constant companion of anyone undertaking studies of linguistics. Part reference work, part revision guide, and with tables providing summary information on some 280 languages, the book provides a new learning tool as a supplement to the usual textbooks and glossaries.
【Reviews】
"This book is a
good idea
. It's not written as a textbook but a linguistics manual, full of information about concepts and practices and written in a clear, straightforward language. It contains, for example a mini language-file (for the many languages referred to in textbooks without further explanation); brief notes on central concepts in linguistics; the conventions of writing essays and assignments; technical terms that have two or more uses and a list of online resources for linguists. There is something here for everyone engaged in Linguistics, from first-year undergraduates through final-year undergraduates and post-graduates to teaching staff. I foresee it being a constant companion."
--Professor Jim Miller, University of Auckland
【About the Author】
Laurie Bauer,
Professor of Linguistics, Victoria University, Australia
【Table of Contents】
Preface  vii
Abbreviations and conventions used in the text  ix
Part I Some fundamentals of linguistics  1
1 Language  3
2 Accent, dialect, variety  7
3 Linguistics  11
4 Grammar  19
5 Parts of speech  25
6 Rules  33
7 The Saussurean dichotomies  41
8 Chomsky's influence  47
9 Form and function  57
10 Contrast and substitution  61
11 Binarity  64
12 Trees  68
13 State versus process 73
14 Native speaker  76
15 The data of linguistics  81
Part II Notation and terminology
16 Notational conventions  95
17 Frequent abbreviations and initialisms  104
18 Terminology: ambiguity  107
19 Terminology: synonymy  116
Part III Reading linguistics
20 The International Phonetic Association  127
21 Reading phonetics and phonology  131
22 Foreign expressions  137
23 Letters, accents and diacritics  139
24 Journals  142
25 Linguists' names  147
26 Laws and principles  150
27 Statistics  162
28 Some on-line resources for linguists  171
Part IV Writing and presenting linguistics
29 Essay writing  177
30 Glosses  185
31 Use versus mention  190
32 Reification  192
33 Spelling  195
Part V Bibliographies
34 Citation etiquette  199
35 Reference lists  208
Part VI Language file
Language file  221
Index  382