第9版2004年から3年ぶりの大改訂。さまざまな改訂が加えられています。第9版の「Psycholinguistics」(心理言語学)の章は、「Language Acquisition」 (Chapter 8) と「Language Storage and Processing」 (Chapter 9) に分割・拡張されました。そのほか詳細についてはこちら >>
http://www.ling.ohio-state.edu/publications/files/lf10.html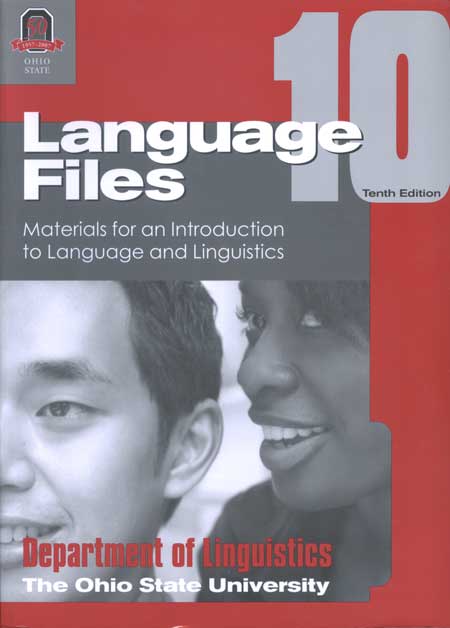 http://www.amazon.co.jp/dp/0814251633/
Language Files: Materials for an introduction to Language and Linguistics, Tenth Edition
by
The Ohio State University, Department of Linguistics eds.
Ohio State University Press, 2007/5/15
ISBN-10: 0814251633 ISBN-13: 978-0814251638
【An Introduction to
Language Files
】
Since its inception thirty years ago, the
Language Files
has grown from a collection of materials designed simply as a supplement for undergraduate courses into a full-fledged introductory textbook. The scope of the text makes it suitable for use in a wide range of courses, while its unique organization into instructor-friendly files allows for tremendous flexibility in course design.
The
Language Files
was originally the idea of Arnold Zwicky, who was among its first authors. Since the first edition, many editors have contributed to the development of the
Language Files
; the current edition is the result of this cumulative effort.
【New in the 10th edition】
This edition has been significantly expanded and includes more than 25% new material.

Each chapter has been restructured to begin with a brief overview of the topic, including a comic that provides insight into the linguistic subfield covered in the chapter. Each chapter now also ends with a separate file containing practice exercises, discussion questions, and activities relevant to the chapter. Some chapters also contain recommended further readings following the exercises.

The discussion of signed languages has been expanded and incorporated throughout the text, such that examples of various linguistic phenomena (e.g., phonetic descriptions, phonological patterns, morphological structure, language variation and change, etc.) in signed languages are presented as they become relevant.

Several chapters have been updated in terms of their content, to incorporate more recent investigations and findings in linguistic research. These include the chapter on language variation, which now focuses solely on variability at different levels of linguistic structure and the causes of such variability (both regional and social), and a new chapter on language and culture, which includes other issues of sociolinguistic interest such as language and identity or language and power.

A new chapter has been added to help answer the common question of what one can do with a degree in linguistics. This chapter provides overviews of six practical ways that a linguistics education can be applied: language education, speech-language pathology and audiology, law, advertising, code-breaking, and the further study of linguistics.


【Language Files 10 - Table of Contents】
List of Symbols
Preface to the Tenth Edition Acknowledgments

Chapter 1: Introduction
File 1.0 What Is Language?
File 1.1 Introducing the Study of Language
File 1.2 What You Know When You Know a Language
File 1.3 What You Don't (Necessarily) Know When You Know a Language
File 1.4 Design Features of Language
File 1.5 Language Modality
File 1.6 Practice

Chapter 2: Phonetics
File 2.0 What Is Phonetics?
File 2.1 Representing Speech Sounds
File 2.2 Articulation: English Consonants
File 2.3 Articulation: English Vowels
File 2.4 Beyond English: Speech Sounds of the World's Languages
File 2.5 Suprasegmental Features
File 2.6 Acoustic Phonetics
File 2.7 The Phonetics of Signed Languages
File 2.8 Practice

Chapter 3: Phonology
File 3.0 What Is Phonology?
File 3.1 The Value of Sounds: Phonemes and Allophones
File 3.2 Phonological Rules
File 3.3 Phonotactic Constraints and Foreign Accents
File 3.4 Implicational Laws
File 3.5 How to Solve Phonology Problems
File 3.6 Practice

Chapter 4: Morphology
File 4.0 What Is Morphology?
File 4.1 Words and Word Formation: The Nature of the Lexicon
File 4.2 Morphological Processes
File 4.3 Morphological Types of Languages
File 4.4 The Hierarchical Structure of Derived Words
File 4.5 Morphological Analysis
File 4.6 Practice

Chapter 5: Syntax
File 5.0 What Is Syntax?
File 5.1 Basic Ideas of Syntax
File 5.2 How Sentences Express Ideas
File 5.3 Lexical Categories
File 5.4 Phrase Structure
File 5.5 Tests for Structure and Constituency
File 5.6 Word Order Typology
File 5.7 Practice

Chapter 6: Semantics
File 6.0 What Is Semantics?
File 6.1 An Overview of Semantics
File 6.2 Lexical Semantics: The Meanings of Words
File 6.3 Lexical Semantics: Word Relations
File 6.4 Compositional Semantics: The Meanings of Sentences
File 6.5 Compositional Semantics: Putting Words Together and Meaning Relationships
File 6.6 Practice

Chapter 7: Pragmatics
File 7.0 What Is Pragmatics?
File 7.1 Language in Context
File 7.2 Rules of Conversation
File 7.3 Drawing Conclusions
File 7.4 Speech Acts
File 7.5 Presupposition
File 7.6 Practice

Chapter 8: Language Acquisition
File 8.0 What Is Language Acquisition?
File 8.1 Theories of Language Acquisition
File 8.2 First-Language Acquisition: The Acquisition of Speech Sounds and Phonology
File 8.3 First-Language Acquisition:The Acquisition of Morphology, Syntax, and Word Meaning
File 8.4 How Adults Talk to Young Children
File 8.5 Bilingual Language Acquisition
File 8.6 Practice

Chapter 9: Language Storage and Processing
File 9.0 How Do We Store and Process Language?
File 9.1 Language and the Brain
File 9.2 Aphasia
File 9.3 Speech Production
File 9.4 Speech Perception
File 9.5 Lexical Processing
File 9.6 Sentence Processing
File 9.7 Experimental Methods in Psycholinguistics
File 9.8 Practice

Chapter 10: Language Variation
File 10.0 What Is Language Variation?
File 10.1 Language Varieties
File 10.2 Variation at Different Levels of Linguistic Structure
File 10.3 Factors Influencing Variation: Regional and Geographic Factors
File 10.4 Factors Influencing Variation: Social Factors
File 10.5 Practice

Chapter 11: Language Contact
File 11.0 What Is Language Contact?
File 11.1 Language Contact
File 11.2 Borrowings into English
File 11.3 Pidgin Languages
File 11.4 Creole Languages
File 11.5 Societal Multilingualism
File 11.6 Language Endangerment and Language Death
File 11.7 Case Studies in Language Contact
File 11.8 Practice

Chapter 12: Language Change
File 12.0 What Is Language Change?
File 12.1 Introducing Language Change
File 12.2 Language Relatedness
File 12.3 Sound Change
File 12.4 Morphological Change
File 12.5 Syntactic Change
File 12.6 Semantic Change
File 12.7 Reconstruction: Internal Reconstruction vs. Comparative Reconstruction
File 12.8 Practice

Chapter 13: Language and Culture
File 13.0 What Is the Study of "Language and Culture"?
File 13.1 Language and Identity
File 13.2 Language and Power
File 13.3 Language and Thought
File 13.4 Writing Systems
File 13.5 Practice

Chapter 14: Animal Communication
File 14.0 How Do Animals Communicate?
File 14.1 Communication and Language
File 14.2 Animal Communication in the Wild
File 14.3 Can Animals Be Taught Language?
File 14.4 Practice

Chapter 15: Language and Computers
File 15.0 What Is Computational Linguistics?
File 15.1 Speech Synthesis
File 15.2 Automatic Speech Recognition
File 15.3 Communicating with Computers
File 15.4 Machine Translation
File 15.5 Corpus Linguistics
File 15.6 Practice

Chapter 16: Practical Applications
File 16.0 What Can You Do With Linguistics?
File 16.1 Language Education
File 16.2 Speech-Language Pathology and Audiology
File 16.3 Language and Law
File 16.4 Language in Advertising
File 16.5 Codes and Code-Breaking
File 16.6 Being a Linguist
File 16.7 Practice

Appendix: Answers to Example Exercises
Selected Bibliography
Glossary
Language Index
Index
IPA Symbols and Example Words
American English Consonant and Vowel Charts
Official IPA Chart