日本語や中国語の例も載っています。
なんと、時枝誠記『国語学原論』「言語過程説」も登場していました(20、183ページ)。
あと、「e.g. Givon(1979)」などとあるのはいいのですが、章とかページが書いてないのはちょっと不親切ですね。
※Givón, Talmy (1979)
On Understanding Grammar
. Academic Press.
Regularity in Semantic Change
Series: Cambridge Studies in Linguistics (No. 97)
by
Elizabeth Closs Traugott
(Stanford University, California)
Richard B. Dasher
(Stanford University, California)
Publisher: Cambridge Univ Press Published 2002(Paper 2005)
Paperback ISBN-13: 978-0521617918 ISBN-10: 052161791X
Hardback ISBN-13: 9780521583787 ISBN-10: 0521583780
http://www.amazon.co.jp/dp/052161791X/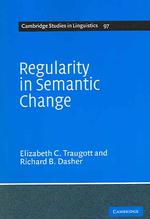 【版元の内容紹介】 >>
http://www.cambridge.org/catalogue/catalogue.asp?isbn=9780521583787
This new and important study of semantic change examines how new meanings arise through language use, especially the various ways in which speakers and writers experiment with uses of words and constructions in the flow of strategic interaction with addressees. In the last few decades there has been growing interest in exploring systemicities in semantic change from a number of perspectives including theories of metaphor, pragmatic inferencing, and grammaticalization. Like earlier studies, these have for the most part been based on data taken out of context. This book is the first detailed examination of semantic change from the perspective of historical pragmatics and discourse analysis. Drawing on extensive corpus data from over a thousand years of English and Japanese textual history, Traugott and Dasher show that most changes in meaning originate in and are motivated by the associative flow of speech and conceptual metonymy.
・At the forefront of new work in historical pragmatics and discourse analysis
・Highly original, it reveals systematic principles at work in semantic change, a domain usually thought of as unsystematic
・Draws on data from over a thousand years of English and Japanese textual history
【CONTENTS】
List of figures page
Preface and acknowledgments
Conventions
List of abbreviations
1 The framework
1.1 AIMS OF THIS BOOK
1.2 THE THEORY OF GRAMMAR AND OF LANGUAGE USE
 1.2.1 Meaning and grammar
 1.2.2 Polysemy, homonymy, monosemy
 1.2.3 Meaning and use
 1.2.4 Subjectivity, intersubjectivity, objectivity
1.3 SEMANTIC CHANGE
 1.3.1 Mechanisms of semantic change: metaphorization, metonymization
 1.3.2 The Invited Inferencing Theory of Semantic Change model of semantic change
1.4 CHILD VS. ADULT ACQUISITION IN SEMANTIC CHANGE
1.5 THE HYPOTHESIS THAT ONTOGENY RECAPITULATES PHYLOGENY
1.6 THE NATURE OF EVIDENCE FOR SEMANTIC CHANGE
 1.6.1 The validity of written data
 1.6.2 The language and data sources for this book
1.7 SUMMARY AND OUTLINE OF LATER CHAPTERS
2 Prior and current work on semantic change
2.1 INTRODUCTION
2.2 BACKGROUNDS TO CONTEMPORARY WORK
 2.2.1 Breal
 2.2.2 The early twentieth century
 2.2.3 Semantic fields
2.3 MAJOR CONTEMPORARY ISSUES
 2.3.1 Metaphor
 2.3.2 Metonymy and invited inference
 2.3.3 Grammaticalization and unidirectionality
 2.3.4 Subjectification and intersubjectification
 2.3.5 Historical pragmatics
2.4 CONCLUSION
3 The development of modal verbs
3.1 INTRODUCTION
3.2 SOME MORE DETAILED DISTINCTIONS RELEVANT TO DEONTIC AND EPISTEMIC MODALITY
 3.2.1 Subjects of modals
 3.2.2 Conceptual sources
 3.2.3 Generalized deontic and epistemic necessity and possibility
 3.2.4 Scope
 3.2.5 (Inter)subjectivity
 3.2.6 Temporality
 3.2.7 Scales of modal strength
3.3 SEMANTIC SOURCES OF DEONTIC AND EPISTEMIC MODALS
3.4 THE DEVELOPMENT OF EPISTEMIC MEANING
 3.4.1 English
must
 3.4.2 English
ought to
 3.4.3 Chinese
de
3.5 CONCLUSION
4 The development of adverbials with discourse marker function
4.1 INTRODUCTION
4.2 DISCOURSE MARKERS
4.3 THE DEVELOPMENT OF DISCOURSE MARKERS SIGNALING LOCAL
CONNECTIVITY
 4.3.1 English
indeed
 4.3.2 English
in fact
 4.3.3 English
actually
 4.3.4 Comparison of the three adverbials
4.4 SUBJECTIFICATION AND INTERSUBJECTIFICATION
 4.4.1 English
well
 4.4.2 English
let's
4.5 THE DEVELOPMENT OF A DISCOURSE MARKER SIGNALING GLOBAL CONNECTIVITY: JAPANESE
SATE
4.6 CONCLUSION
5 The development of performative verbs and constructions
5.1 SPEECH ACT AND PERFORMATIVE VERBS
5.2 SOME ISSUES FOR STUDIES OF THE DEVELOPMENT OF PERFORMATIVE VERBS
5.3 PRECURSORS OF PERFORMATIVE VERBS
5.4 THE DEVELOPMENT OF PERFORMATIVE FUNCTION
 5.4.1 Some directives: PROMISE in English
 5.4.2 A declarative: Chinese
bao
 5.4.3 Another declarative: Japanese
aisatu
5.5 ON THE RECRUITMENT OF MODALS FOR PERFORMATIVE USES
5.6 CONCLUSION
6 The development of social deictics
6.1 INTRODUCTION
6.2 SOME MORE DETAILED DISTINCTIONS RELEVANT TO HONORIFICS
 6.2.1 Referent and addressee honorifics
 6.2.2 Politeness and honorific social deictics
 6.2.3 A model of deixis
6.3 CLASSES OF HONORIFICS AND PATTERNS OF SEMANTIC CHANGE IN JAPANESE
6.4 THE DEVELOPMENT OF REFERENT SOCIAL DEICTIC FUNCTION
 6.4.1 Japanese
kudasaru
"RESP:give to SP/W (group)"
 6.4.2 English
pray
(ADV)
 6.4.3 English
please
(ADV)
6.5 THE DEVELOPMENT OF PREDICATE ADDRESSEE HONORIFICS IN JAPANESE
 6.5.1 Japanese
saburahu
"HUMIL:be" > "be:POL"
6.6 CONCLUSION
7 Conclusion
7.1 INTRODUCTION
7.2 SUMMARY OF MAJOR FINDINGS
7.3 DIRECTIONS FOR FUTURE WORK
Primary references
Secondary references
Index of languages
Index of names
General index